Let's Celebrate The True Heroes
H&M is part of a new breed of high street and high-end brands who, after years of being socially and environmentally irresponsible, are turning over a new leaf and focusing on positive change. We applaud the good work that H&M is doing with women and girls' education programs, or by publishing 95% of its cut-make-trim factories and 35% of its textile and yarn mills, by using organic and sustainable materials in the Conscious Collection, and the fact that it has committed itself to a paying a living wage for 60% of the garment workers in its supply chain by 2018.
While H&M certainly does more than most fast fashion retailers when it comes to social and environmental issues, they're also not being totally honest with their customers.
H&M has declared 18-24th April 2016 "World Recycle Week" and likely splashed out a lot of marketing dollars for M.I.A. to be the face of the campaign. Recycling is a huge and important challenge that faces the entire garment industry across the supply chain, why is H&M doing this in apparent isolation — single-handedly declaring this (of all the weeks they could have chosen) "World Recycle Week" without collaboration or support from any other brands? In our experience, big industry-wide problems require industry-wide solutions.
H&M's website for World Recycle Week says: "The idea is simple: Bring your unwanted clothes (from any brand, in any condition) to your nearest H&M store. H&M will recycle them and create new textile fibres, and in return you get vouchers to use at H&M."
But this is not the full story. Only a small fraction of the 1,000 tonnes of clothing they want you to bring back will be turned into new textile fibres. Most clothing is made from a blend of different materials: cotton and polyester, wool and acrylic, silk and elastane, etc. The technology does not yet exist to be able to recycle blended fibres from reclaimed clothing.
In fact, a case study published by the World Economic Forum in January 2014 reports that somewhere between 40-60% of the clothing H&M collects from its customers is marketed for "re-wear" – in other words it's sold as second-hand clothing across the world and perhaps controversially to developing countries.
So if H&M is only capable of turning a small amount of your unwanted garments into new fibres, where is the rest of your clothing going? And who is making a profit from your resold second-hand clothing? If you are shopping at H&M, you deserve to know the real picture.
Secondly, 18-24th April 2016 is an important week. Let's not forget that on 24th April just three years ago 1,134 people died at Rana Plaza in Bangladesh making clothes for the high street, and H&M is the world's largest producer of garments in Bangladesh.
This week, of all weeks, H&M should be working in solidarity with the rest of us to mark the anniversary of the Rana Plaza tragedy. It should be a time for us all to honour garment workers, those who have died in all industrial tragedies in the garment industry, from the Triangle Shirtwaist fire in New York in 1911 to the Tazreen Fire in Bangladesh four years ago and in solidarity with those who are still suffering in the fashion supply chain today.
H&M's World Recycle Week takes away from this important time for reflection, dialogue and action. Millions of people will be coming out during Fashion Revolution Week to raise awareness and ask questions about the conditions that garment workers face and the persistent lack of human rights in the fashion industry, and to celebrate the people behind what we wear – from fibre farmer to spinner, dyers, tailors and so on.
Meanwhile, H&M is dramatically behind schedule in correcting the dangers faced by the Bangladeshi workers who produce their clothing, according to a report published today by the Clean Clothes Campaign (CCC), International Labor Rights Forum (ILRF), Maquila Solidarity Network (MSN), and Worker Rights Consortium (WRC).
"The Bangladeshi workers who sew H&M's clothing continue to toil in extremely dangerous conditions, in many cases lacking the most urgent and lifesaving fire safety measures," said Liana Foxvog of the International Labor Rights Forum.
"If only H&M was willing [to] put the same energy into actually meeting their much lauded sustainability commitments as they do into promoting them, we may well be closer to seeing a safer garment industry in Bangladesh," said Samantha Maher of the Clean Clothes Campaign.
The focus on recycling during such a crucial week for garment workers seems like a way of diverting attention from the fact that not enough is being done to protect the people who make H&M's clothes – the workers helping fuel over 3,900 H&M stores and $28 billion in sales they did last year.
While we are pointing the finger at H&M, it is not just them. We could (and probably will) call out all sorts of other brands for not being honest with their customers about their practises. And of course the fact that H&M is making a big effort to address an epic textile waste problem is a good thing, a big step in the right direction. But it's moments like this we need to take a step back and say "hey, wait a minute" — there's more to this story than I'm being told."
During the week 18-24th April 2016, we encourage you to think about what's in your wardrobe. If you have clothing going unworn, could you do something clever with it instead of getting rid of it (at H&M or elsewhere)? You could swap it with a friend who will appreciate it more, or perhaps you could alter it so that you'll love it for longer. Or why not try our haulternative, and discover 8 better ways to refresh your wardrobe without buying new clothes.
And if you're planning to go into H&M that week and bring back your unwanted clothes, make sure you also ask H&M #whomademyclothes and urge them for a real answer. If you could know the story behind what you're wearing, wouldn't that make you appreciate it more? And if you're planning to use that H&M voucher, then make sure you buy something you know you're going to wear a minimum of 30 times… or better yet ask yourself if you really need it at all.
Finally, we ask that during Fashion Revolution Week you remember the true heroes, the people that are working invisibly to clothe you, the ones that may never get to wear, let alone consume the clothes they make for you.
Fashion Revolution Week runs from 18th to 24th April 2016, don't forget to ask @HM and your other favourite brands #whomademyclothes.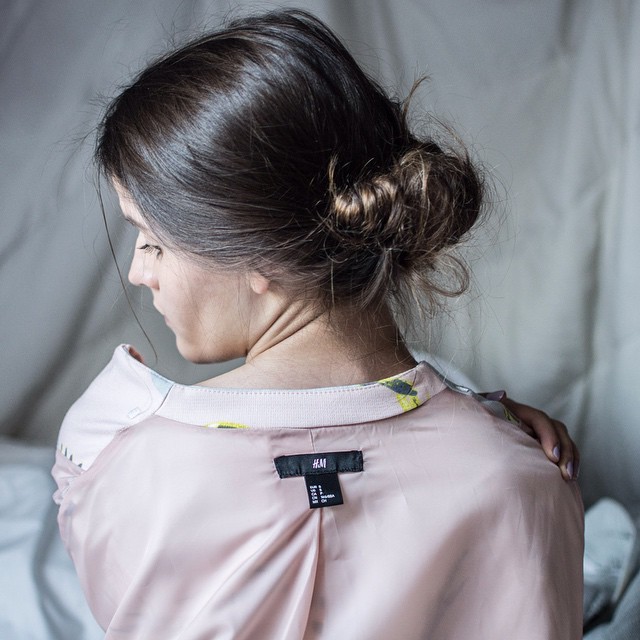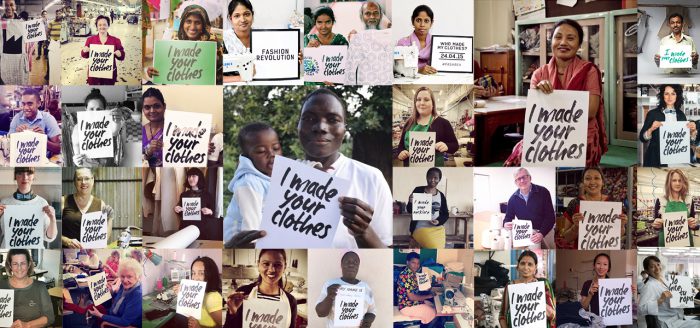 Please support Fashion Revolution to help make our message louder! Every donation will help us to give a voice to everyone in the fashion supply chain. Thank you for being a part of this movement and helping us keep going from strength to strength.
Source: Fashion Revolution
Written by BY Fashion Revolution Global Coordination Team